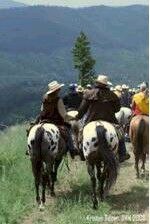 Dixieland ApHC 3rd Annual Poker Ride
All horses/riders are welcome!
Saturday, May 12, 2012 @ 10:00 am
Rain date: May 19, 2012 @ 10:00 am
A&M Research Farm, 372 Walker Lane
Hazel Green, AL 35750 (corner 231/431&Walker  Lane)
$10 fee (lunch included)
Jump in the saddle for a good cause! Riders collect  Poker cards along an easy 5-mile trail. Player with best poker hand gets 1st choice from our prize table. Players select prizes according to rank of poker hand.
Come ride, have fun & meet other equine enthusiasts. Don't have a horse? You can hike the trails or just come play a hand or two of Poker.
Download a flyer!
Contact:
(256) 828-0457
appyspots@mchsi.com
kathiarnould@yahoo.com
al.trausch@att.net
Proceeds benefit Happy Trails Therapeutic Riding Center
Inc.